A Great Start!
Zoe set the scene on the day with an inspiring and excellent opening speech in "celebration and acknowledgement of Discovery Day." This stirred all the participants into the right mood and everyone was excited by the day's upcoming events. It also gave a preview into what was to come; which was some very high-standard public-speaking!
The Schools
Although, there was going to be lots of celebration about the city of Manchester, there was also lots of competition between the schools attending the event: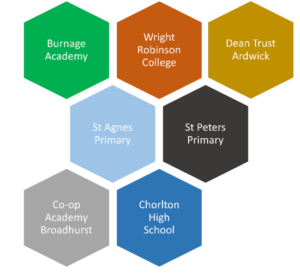 There were highly competitive and talented Poetry Slam and Elevator Pitch tournaments, followed by activity workshops; 'places' with The Horsfall/42nd Street, 'freedom to play' run by Manchester Active, how to relax through yoga, and 'numeracy and how to be cyber-savvy' with global employer KPMG.
All this was recorded and sprinkled with interviews and portraits by Media Cubs.
Skills For Life With Kloodle
The schools attending the event, signed up to Manchester City Council's Skills for Life programme. Skills for Life is a universal approach which aims to raise the profile of skills so that for children and young people build self-awareness around when and where they are developing these vital life skills. This meant that the students could start their Kloodle profiles with photos and videos of them in action public-speaking and doing activities at the event.

The Lord Mayor of Manchester And The Council Emphasised Their Commitment
The shiny, new Lord Mayor of Manchester, Yasmine Dar, dressed in her finery and chains, stood up next to present her "champions and leaders" speech. It was very rousing as is her backstory; she makes a great role model, being the first Asian-origin woman to make this grade, as she pointed out. She re-emphasised the UNICEF mantras of: "each child can aspire to be what they want to be", "apply yourself, despite the headwinds" and "every child has the right to express opinions and have their views heard". These are very admirable objectives, which Garry Bridges then reaffirmed by telling the audience that 11,000 young people had been asked for their views on issues around the city. This was a world record!
The children of Manchester had responded to the survey with five key wants: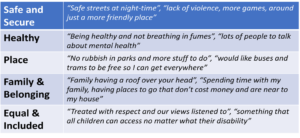 To understand what Discovery Day was all about in the context of the UNICEf application, read here.
If you would like a demo of Kloodle please book it here: Calendar