At Kloodle, we believe that the process of education is more important than the end result. The knowledge, skills and experiences you acquire along the way is far more important than the exam certificate at the end. This ethos is baked into our product. We want learners to understand that, each and every day, they are acquiring skills and experiences that contribute to their future success. These skills are built in every lesson, extra curricular activity and interaction. We're not alone in this belief. Many employers we speak with state they need team players, resilient individuals and problem solvers; they need creatives, communicators and leaders. Kloodle helps emphasise the points throughout a learner's education where they are developing these traits.
One of the key features we've developed to help build this understanding is Awards. Awards enable a school or college to reward learners for the skills they are developing, as well as their achievements. This concept reinforces the importance of skills. I would like to outline how this is achieved in the following post.
On Kloodle, there are two main approaches to this profile-driven and application-driven. Profile driven works best when the award in question is generic and can be awarded subjectively. Application-driven is great when you want the students to formally demonstrate their capabilities in or understanding of a particular area.
This post will focus on profile driven awards. There will be a follow up post exploring application-driven awards.
Creating an award
The first step in the process is to create an award. When taking a profile-driven approach, you can take one of two approaches: –
Leave the criteria open ended, stating the broad qualities you are looking for in the description
Specific requirements, where you want to see certain types of content on a profile
We have seen both of these approaches used successfully. A good example is the creation of employability awards. These awards typically consist of a bronze-silver-gold structure, and have tiered requirements to earn each award, with achievement getting progressively more difficult as you go from bronze to gold.
For example, one of our schools set up a bronze-silver-gold award structure and laid out criteria for each of the awards. An example criteria was: –
Bronze
Complete your Kloodle bio, education history, achievements and employment history
Create a post describing the teamwork activity we did in week one of term
Create a post describing your learning from work shadowing
Create a post describing your future aspirations.
At regular junctures throughout the year, form tutors would then use Kloodle profiles to check progress agains these criteria, and administer the award to learners fulfilling them.
An open ended award might not contain such a detailed description, but can be awarded to learners whose profiles are deemed to be of sufficient quality.
How this works
The first step in the process for setting up an award is to log in to your Kloodle teacher profile, navigate to the awards section by clicking Skills > Awards in the top navigation bar.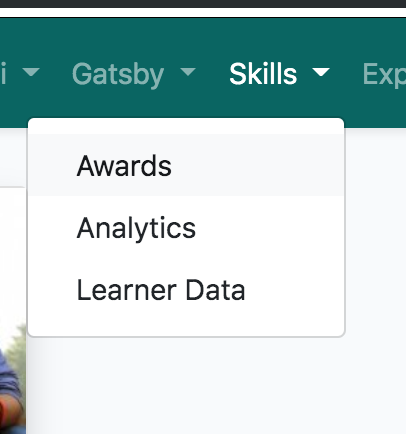 Next, click "Create Award". This will take you to the form for creating an award. At this point, you can lay out the criteria you want students to meet, or state what the award's purpose is.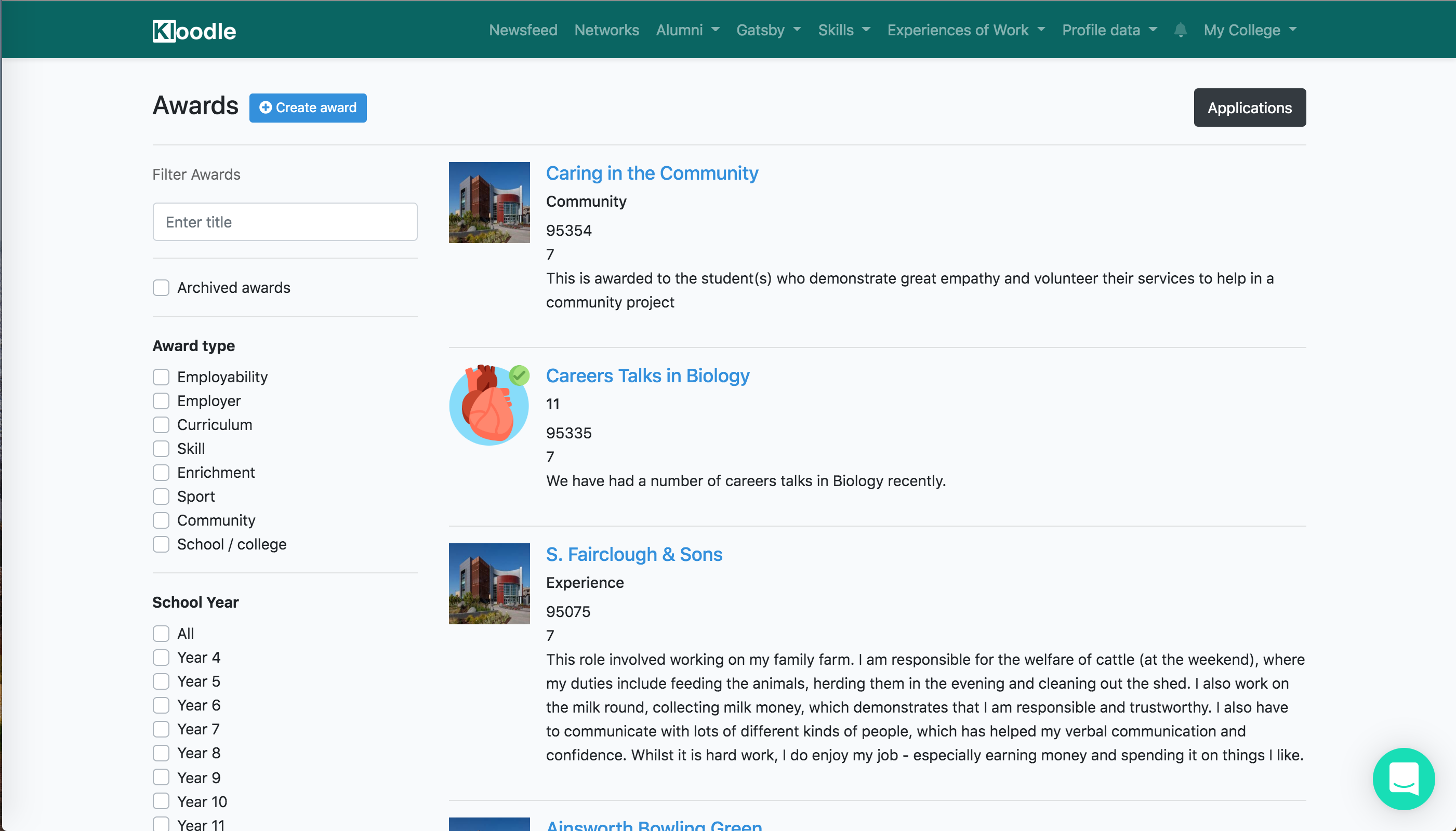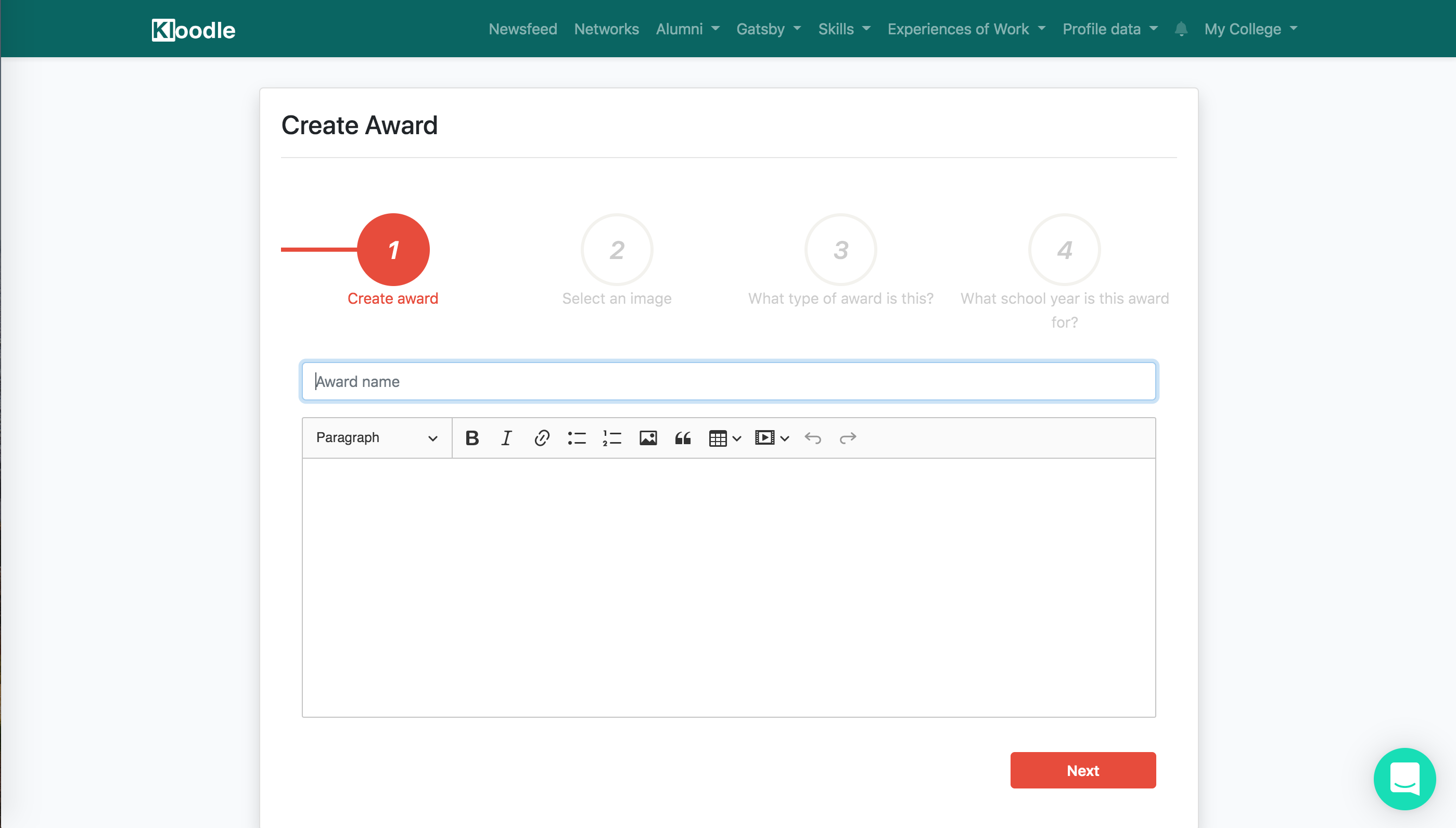 The rest of the form enables you to categorise the award, as well as assert the year groups the award is aimed at. Once you have done this, click "Finish" and the award will be listed in your index.
Once the award is set up, you can begin to award students.
The first step in this process is to find profiles worthy of receiving your award. You can do this by:-
Navigating through your newsfeed to find learners who have made good quality posts
Using the user index to click through profiles and see which are worthy of the award.
Enabling learners to apply for the award directly when they feel their profile is of sufficient quality.
The first two points are teacher-led, and the last one requires a learner to proactively apply for the award.
As a teacher, when viewing a learner's profile, you will be able to see an "Awards" section on the right hand side. Once you have clicked through a learner's profile and deemed it of sufficient quality, you can click on the 'Award Learner" button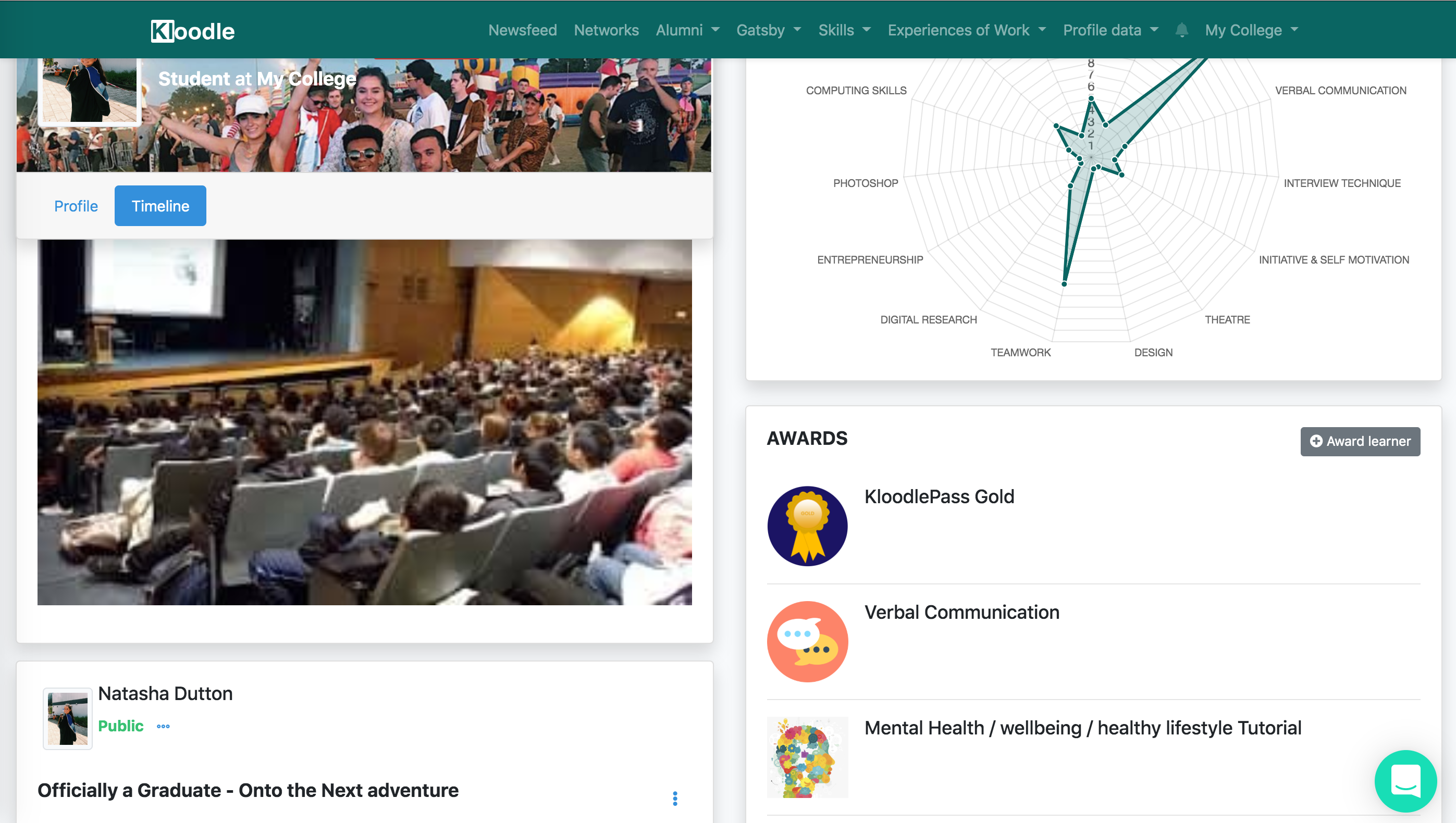 Find the award you wish to award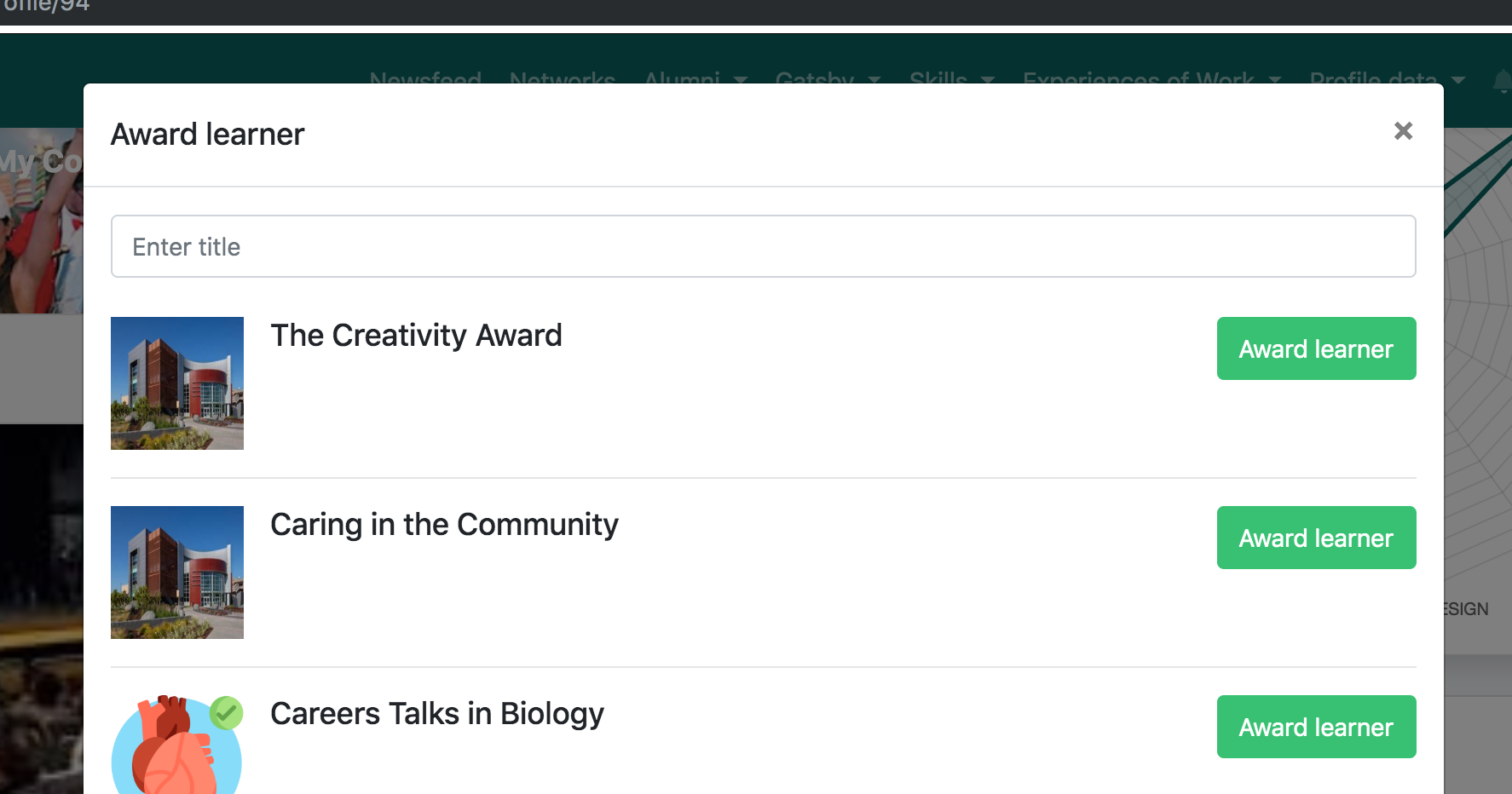 And click "Award Learner". This will notify the user in question, and place the award on the learner's profile.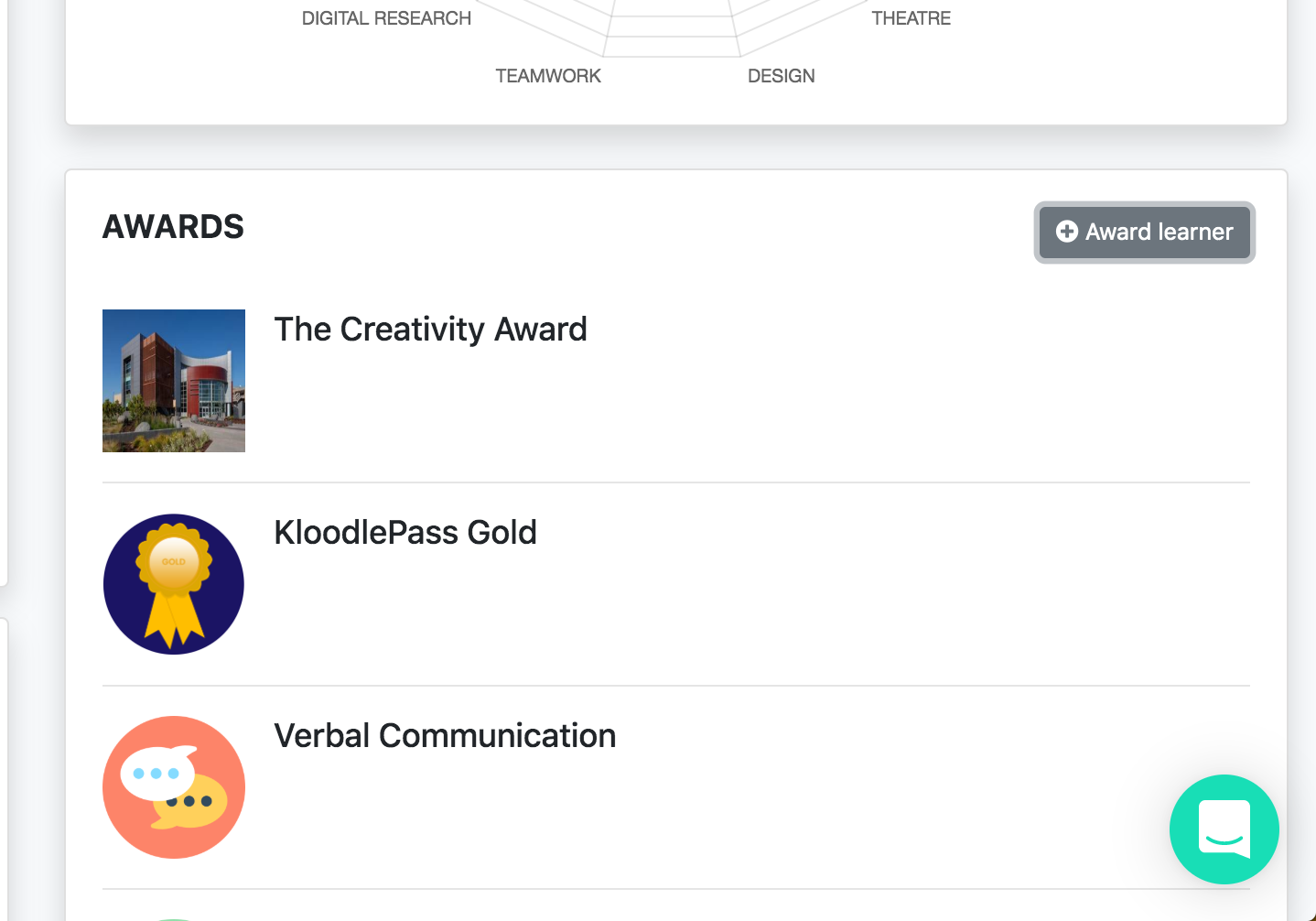 Generic Applications
Learners can also search and apply for awards. They do this by: –
Visiting their profile
Finding the "Awards" Section
Clicking "Find award"
A learner can then find the award they wish to apply for.
Learners can search for an award. Once found, they can click "Apply".
This forwards the application onto teacher and admin accounts for review.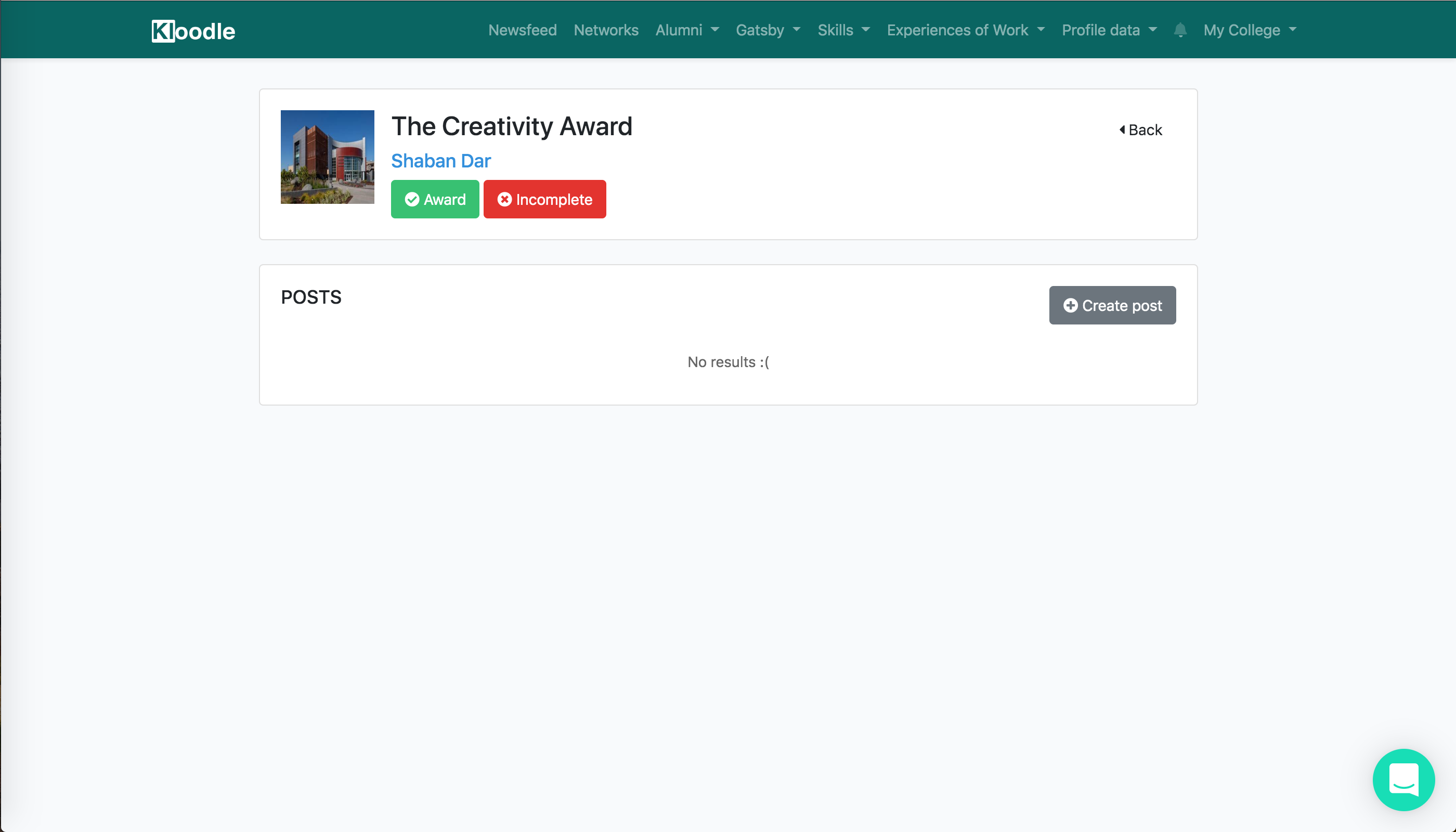 Teachers can then look through the profile in question and choose to award or reject the application.

Conclusion
Awards are a fantastic way to help learners engage with Kloodle, as well as reinforcing the skills they are developing and their importance. Awards can be created for lots of activities throughout school or college and can be created by all members of staff.
For help in doing this, please do not hesitate to get in touch using the green chat button on the right hand side.