At Kloodle's core is the concept of linking skills to activities. Employers care as much about character and employability as much as qualifications. The most effective way to understand how your activities develop your skills and character is to reflect. Kloodle's workflow of activity -> reflect -> tag skills helps to reinforce the link between what you do and the skills you're building, increasing understanding of the pivotal nature of these skills.
We've argued since inception about what skills learners should be able to tag. We've had varying numbers of pre-created options, with each permutation seemingly too much or too little, depending upon who we spoke to. We then put the ball in the court of the learners, enabling them to label their own skills, which also proved to be insufficient. Finally, we blended the approach: enable "pre-created" skills tags to be set by the learner's organisation, and also enable the learner to add custom tags to each post.
This has served us well, but we have recently encountered another problem: the skills you develop on a construction course are different to the skills you develop on a hairdressing course, which are again different to the skills you build studying a Biology A Level. How can we reflect this on Kloodle?
We're now piloting course-specific skills. This feature enables class teachers to set "course skills" for their subject, which, in turn, enables learners to tag these skills into each of their posts. There will, therefore, be two tagging options. Firstly, the transferable skills set at an organisational level, and secondly the course specific skills set at a local, course level.
Here's how it works: –
Access your class as a teacher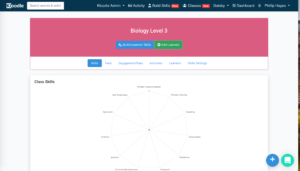 Click on the tab "Skills Settings"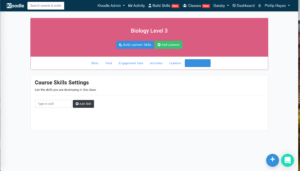 Type the skills your course is building into the supplied field and click "Save" once finished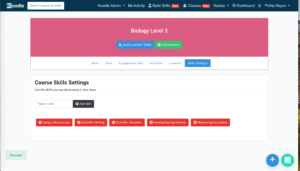 This will now set these skills for any learner who is a member of this class.
Logging in as a learner, we can now see the skills as options to tag into our post.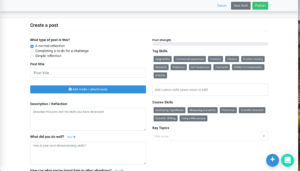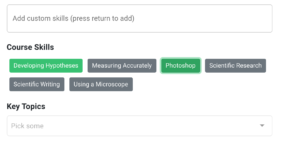 What if a learner studies multiple courses?
Each course can set their own tags. From a learner's view, all of these tags will then be visible when they create a post, in alphabetical order. Any duplicates will be removed so the learner will only see one of each tag.
How will this work with the skills wheel?
These tags are separated into "soft skills" and "course skills". The skills wheel only displays the "soft skills" tags. We are going to either: –
Develop a second skills wheel for display on learners' profiles, or
Infuse course skills with the existing wheel.
We will trial the first approach initially, but then amend if this doesn't suit.
Why is this important?
We have received feedback from learners and from course members of staff that course-specific skills make posting to Kloodle feel more relevant and increases engagement. Also, we want to help learners build a collection of all of their