Overview
In this article, we go into the detail of how Melland High School, a Special Educational Needs school for 11 to 19 year-olds in the very diverse area of Gorton near Manchester, has revolutionised the way they provide careers education for their pupils and how Kloodle's assistive technology has been instrumental in effecting this change.
Kate Milburn, Assistant Principal at Melland High School, summarises the outcome:
"At Melland High school, we are committed to providing the best support and pathways into adulthood for our students. The Skills for Life programme has been hugely successful in enabling our students to develop the 5 key skills of communication, problem solving, self-belief, self-management, and teamwork.  This has a huge impact on students' personal development and the challenge has always been to find the best way to record, monitor and evaluate this.
Kloodle and the Kloodle team have been brilliant. The platform is clear and accessible. Students take pride in their achievements and look forward to logging their skills. Not only does Kloodle record their activities, but it also enables learners to successfully identify which skills are used, how these can be transferred, to identify individual strengths and how to plan next steps.
Kloodle and Melland High staff have worked closely on the roll out and development of the Kloodle platform across school. This collaborative work has ensured a partnership which is dedicated, aspirational and passionate about the future of our young people."
And this is how the story unfolded……….
Skills for Life
Melland High is committed to providing a meticulously planned state-of-the-art programme of impartial careers education, which is focused on practical pathways to meet the careers needs of young people of all abilities and tailored to each year group for maximum impact. The catalyst for the change in approach was the introduction of Manchester Council's Skills for Life programme to the school.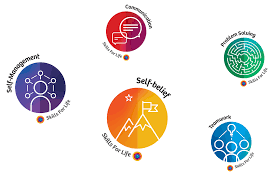 The Skills for Life framework focusses on 5 key skills, which, research shows, are known to help not only with employability but also are transferable to all aspects of life. In their planning, all subject teachers are asked to identify any opportunities for teaching Skills for Life and to recognise when Skills for Life has been used.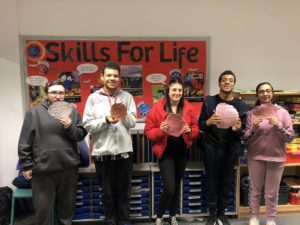 The skills framework is woven into every lesson throughout the school in order to "live not laminate" the skills and, also, as it is a School Improvement Priority, all teachers are expected to refer to Skills for Life qualities in their lessons. Through this reaffirmation, the language and objectives are understood and 'normalised' and it is now completely embedded into the curriculum at Melland. Strong leadership is essential to make sure all staff are committed to applying the framework consistently.
During this continuous process, all of the students at the school are constantly active in building their profiles and skills wheels on Kloodle; this is done firstly by recognising the relevant skill, practising the activity, and then reflecting on what they have achieved. Thus, the system embeds habituation and growth of skills.

Careers Lessons
The school timetables careers lessons for all key stages in the formal curriculum.
Careers are broken down into ten different sectors, namely:
Admin and Support; Charity and Voluntary; Creative; Engineering; English and Languages; Enterprise; Environmental; Finance and Law; IT and Digital; Public Sector; Retail – Hospitality and Tourism; Sport, Health and Beauty; Transport and Logistics.
In careers lessons the students, with the help of staff, spend the first session researching jobs within one of the sectors (using careers maps like the one below) and identifying any which interest them. Typically, the opportunities are in the Manchester area and the teachers will have inventively mapped out the relevant career pathways, so the focus is on the most appropriate employment outcomes for people with learning difficulties.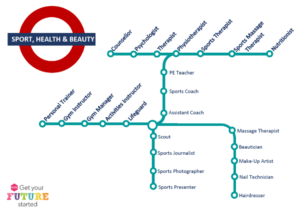 These lessons are supplemented by talks from the teachers, access to specialist career professionals and online information.
The specific approach varies according to the key stage: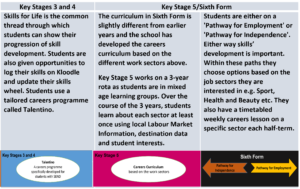 Learning By Doing; A Practical Approach
The careers education is very practical, with the emphasis on 'learning by doing'. Therefore, the classroom 'theory' is supplemented by educational visits to a workplace or by employer and employee encounters. The focus tends to be on one or two jobs in a specific sector; the students can sample the job, see first-hand what the job entails and can develop and practise the knowledge, skills and understanding needed in these careers, which are also useful in lifelong learning.
This way the programme balances careers education and personal development, incorporating a wide range of planned activities.
It's a four-step process: Talk about it; see it; touch and feel it; reflect about it.

On top of this, the school holds a careers week in which guest speakers are invited in to the school and the students also participate in themed learning days, enterprise projects, jobs fairs, college visits, enrichment activities and work experience.
Where Does Kloodle Fit in?
All of these activities help to highlight the development of lots of key skills. Melland High creates an environment in which the learners can develop employability skills over the year and build on them year on year.
All of this rich experience and skills' development can be captured by being recorded on Kloodle. Learners do this by uploading photos, videos and blogs to their Kloodle profile, tagging in the skills they are honing as part of the activity. Reflection is a very powerful component of the process as children think more deeply about identifying skills and then how to develop them, so personal reflections are added to Kloodle after the visits, when students can consider how their skills have evolved and whether the career is right for them. Ultimately, they can complete CV writing on Kloodle and keep their profiles for life!
All of this builds self-awareness and the most important aspect is the skills are transferable.
For example, recently a class attended a recycling centre to observe how many different materials can be recycled into paper. Some of the students were invited to present back their findings to their classmates. Although the talk was ostensibly about recycling, one young presenter was pleasantly surprised to hear that this task also covered 'communication' skills.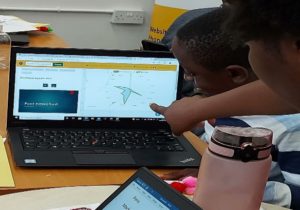 By doing these tasks, the learners could identify how their aptitudes can grow their individual skills wheel. That feels good!
A Wide Range of Abilities
There is a wide range of abilities and needs across the school. Depending on the ability of the group there are different levels of support that the learners receive. The programme is fully inclusive, so, in order to overcome hurdles and fears, students are segregated into three groups dependent on the level of support they require from teachers and the assistive technology:

It's no wonder that Ofsted reported that: "Students develop excellent personal and social skills, including how to communicate well."
Let's Celebrate and Spread The Word
Alongside the work on Kloodle, Melland High celebrates the students' achievements by being very active on Twitter and other social media. This has proved an excellent and popular channel of communication with parents and other 'partners' in the local community.
Please celebrate with us by sharing this article.