Background
Northampton Academy is a non-selective school for 1,700 11 to 18 year-old students. The academy has been very progressive in adopting character education alongside traditional academic teaching and is one of the flag-bearers for the Jubilee Centre for Character & Virtues at University of Birmingham. The Association of Character Education (ACE), who has recognised the academy as a 'school of character', says that "Northampton Academy can be considered to be one of the most successful schools in the country in terms of its character education programme".
In turn, Director of Character at Northampton Academy, Carlington Anderson says:"Kloodle has been an excellent resource for our students. It has helped to measure and document the character reflection of our students. Most importantly, Phillip and Andrew have been superb in responding to any issues and queries that might arise." 
High praise all round!!
The Character Education Theory
The same Jubilee Centre has carried out research, which suggests that children and adults live and learn better with good moral character and that moral integrity can also have a positive impact on performance in schools, professions, workplaces and society in general. This isn't just in the UK but a global phenomenon and the belief is that pupils should cultivate virtues at an early age.
So, how does an educational establishment make this happen in practice?  They identify key character virtues, which can be caught from interactions in the students' community and relationships, taught through their educational experiences reinforced with reflections, and sought by managing their own character development.
"Caught, Taught, Sought" is the mantra.
Northampton Academy's 'Framework in Action' Project
The academy promotes core values of Respect, Determination and Ambition, running alongside the character values of Tolerance and Integrity, which are central to all of the school's decision-making. These five pillars of virtue support every activity at the school; being visible across all areas, they are embedded in the school policies, appointments and all interactions with learners.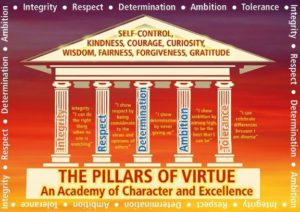 This is the Culture, it is "Lived not Laminated"
In order to make it stick, the staff and pupils use these values terms as part of their daily language. There are also initiatives to encourage their continual usage; such as the 'praise points' system in classrooms and a physical 'caught on character' noticeboard, which is moved around the school, allowing students to nominate peers for recognition for virtuous behaviour and social actions.
Strong Leadership
In order to achieve this culture, there has to be strong commitment from the Leadership Team. Director of Character at Northampton Academy, Carlington Anderson, says, "The character programme at Northampton deliberately exposes students to the 'taught and caught' aspect of character education. We wanted our students to have more autonomy in their character development so we introduced them, with the guidance of their teachers, to the sought aspect of character so that over time as they mature, sought will become more operational. By doing so, we hope it will spark and fuel their desire to continue to discern and freely pursue how their own character is to be formed."
Reinforced by Home Work
Reinforcement at home is also critical and so the academy also engages with the families of the learners, issuing regular newsletters with top tips on how to develop and encourage strength of character. This encourages parents to buy in to the culture.
The 'Character Passport' on Kloodle
Northampton Academy uses Kloodle to demonstrate how teachers and character leaders can assist the character development of their students during their time at school. On Kloodle, learners build their personal profile, which Northampton Academy calls the 'Student Character Digital Passport'. By recording their activities through leadership and enrichment opportunities and tagging in the relevant character traits or skills, the students can identify these aptitudes and can grow their skills wheel, demonstrating clearly how they have developed their character over time.

This way learners can self-evaluate their own character and track their character development.
One great advantage is that learners can keep their Kloodle profiles forever, throughout education and beyond, offering a lasting positive legacy of the character programme delivered by the school.
Reflections
Reflection is a very powerful component of the character development process, encouraging students to think about which skills or traits they are honing. Writing about it helps too! For example, students usually make diary entries on Kloodle about the topics discussed in the regular meetings they have with their teacher.
This way students reflect on their activities and record their reflections on Kloodle.
Specific Examples of Reflections
Northampton Academy's students have been very busy, making almost 8,000 posts about their activities and reflections on Kloodle, which equates to about 3 reflections for each student in every half-term. This is shown in the dashboard:

A wide range of examples of reflections has been made from noteworthy enrichment activities, such as charity runs, making a footballing debut and joining a new club. Some students have alluded to the challenges that were involved and the fears they have had to overcome in character-building activities, others have written about situations where they kept going even when the odds were stacked against them, for example, one student described standing up to bullies in primary school. All this can lead to enhancement of skills and character.

It is very clear that the quality of reflections by the learners and the depth of analysis into their own character has evolved significantly over just a few months. Northampton Academy has seen their learners' ability to self-reflect sky-rocket as they have realised the significance of these simple, daily activities and can better articulate the impact on their character development.
The 'Helping' Invisible Hand
Kloodle's software tools, which prompt and make suggestions, have been a contributing factor in all this. Posting, tagging and reflecting is quick, easy and rewarding. This has been supported by the school's constant reinforcement of their 'Pillars of Virtue'. By placing 'value' on these activities, the message resonates with the students, who now have a better understanding of how these virtues and character attributes can be attained.
What about the Teachers?
Teachers can observe learners' progress through the Kloodle platform and can offer feedback or quality assess the level of evidence uploaded. This helps them manage and review the impact that the school's character education programme is having.
Recognition as a Character Education Leader in the UK and Internationally
As well as being recognised by the Association for Character Education (ACE), Northampton Academy has received the School of Character Kitemark Plus and the prestigious International School Award Intermediate Certificate for being a "Vibrant School of Character". They are set fair to achieve their vision: "To be an academy of character and excellence. To provide a unique and extraordinary experience that sets us apart: locally, nationally and internationally."
It is little surprise that Ofsted reported: "Character development is at the heart of the school's work."
If you would like a demo of Kloodle please book it here:   Calendar