Background
Manchester Communication Academy (MCA) is a mixed, non-selective school serving local children in the Harpurhey area of Manchester and is part of the Greater Manchester Academies Trust group of schools and colleges. The school is passionate about providing high quality education and is a 'young carer friendly' school.
The academy affirms that: "Kloodle has really helped to open our Young Carers' eyes into the skills they are picking up day to day; a lot of our students feel they are not doing anything out of the ordinary when caring for a loved one.  We have enabled them to see that it is much more than just the ordinary.  Young Carers at MCA who access Kloodle are now more likely to think about the skills involved in daily tasks both in and out of school."
This is fantastic as it is exactly what Kloodle was designed to do!

Who are Young Carers?
Young carers are young people, in this case learners at school, who look after someone in their family or a friend, who is ill, disabled, or has a mental health problem or an addiction.  Consequently, they face the additional pressures from their personal circumstances and therefore the school is keen to ensure that they are adequately supported to perform to the best of their ability and have a fair chance in life.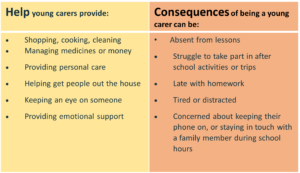 Research has found that, generally in the UK, around 1 in 12 secondary school pupils have some level of caring responsibility. At Manchester Communication Academy it is as many as 2 per class.
Activities and Awareness of Young Carers
Manchester Communication Academy puts on lots of activities to support young carers at the school. This includes inviting various professionals into school to assist young carers on issues and topics important to them, working with local primary schools to ensure a good package of support, providing mentoring and holding a weekly young carer group. The academy raises awareness about young carers in a positive way by holding whole of school assemblies about the subject.
Skills for Life
The academy has started to use Manchester City Council's Skills for Life programme. The programme is designed to help children and young people in Manchester record and reflect all the important skills they are developing now and in the future. For this they use Kloodle. The Skills for Life framework focusses on 5 key skills, which, research shows, are known to help, not only with employability, but also, by being transferable, with all aspects of life: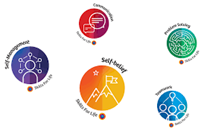 This process can highlight the skills and character young carers are developing, which could be an advantage later in life.
Young Ambassadors Awards
In conjunction with the Skills for Life programme, Manchester City Council, together with a young people's mental health organisation called 42nd Street, created the Young Ambassadors' Awards, specifically designed with young carers in mind.
Manchester Communications Academy has adopted the Young Ambassador Awards for the young carers at the school.
The Mechanics of the Award
 42nd Street has been supporting young people in Greater Manchester with their emotional wellbeing since 1980 and believe that children and young people have unique experiences and ideas which are incredibly important in helping them build confidence to make valuable contributions and influence their decision-making. This mindset feeds into the design of the award.
The award acts as recognition and a mechanism through which young people can gain important skills, develop confidence, convey ideas and have their voice heard. Ultimately, the award allows the participants to practise the Skills for Life by taking part in activities in the following four areas: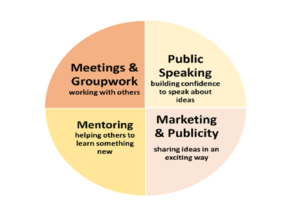 The journey to gaining the award is very personal; in some areas, for example it could be 'Meetings', a student may have experience and feel confident, in others, like say 'Public Speaking', they may feel scared and less confident. Therefore, it is important that learners can be creative in setting their own challenges to get the most out of the experience.
The whole purpose of the award is to encourage young people to try something new, which can raise awareness and promote the development of skills; and, on top of that, learn new skills. For example, as part of the award, emphasis is placed on 'Questioning the Question', so that young people with responsibilities can start to unravel bias and consider whether questions asked of them are 'fair'. Also, reflection is encouraged as it plays a key part in becoming self-aware and understanding strengths and weaknesses.
This all helps with decision-making and is grown-up thinking!
Having completed the award, the freshly-adorned Young Ambassadors can then take pride in becoming role models for other young people and use their skills to help to make positive changes to their school and community.
How Do They Use Kloodle?
The Manchester Communication Academy uses Kloodle to build the skills of the young carers at the college. Evidence of the experience gained by doing the awards, through photos, videos and blogs, can be uploaded to their Kloodle profile, tagging in the skills they are honing as part of the activity.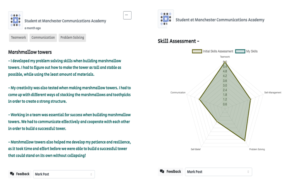 This way the carers can celebrate their skills and see their skills growth. It's positive reaffirmation.
Students can make their own posts but in some cases the teachers post on behalf of the students. The Kloodle software is very user-friendly and helps all levels of learners with these activities. Reflection is a very powerful component of the process as children think more deeply about identifying skills and then how to develop them, so personal reflections are added to Kloodle after the activities, when students can consider how their skills have evolved.
Ultimately, learners can easily complete their CV from all this information on Kloodle.
In Summary….
The strong and many headwinds faced by young carers mean that the general impact relative to other children is a significantly lower attainment in qualifications, such as GCSEs, with the knock-on effect to a lack of employment opportunities and the potential difficult journey through life. And yet, many of the skills attained through being a carer are exactly the sort of attributes required by employers and for people to have a fulfilled life, such as resilience, patience, communication etc. It is the recognition of these skills which the award is trying to capture and celebrate through Kloodle here.
Although there is an award involved in this example, and the recognition builds self-esteem, the circumstances which young carers are placed in can act as a scaffold for the skills development. Also, by recognising these incredible transferable skills learned early in life, young carers can build self-awareness and belief so that they can develop their confidence and potentially turn adversity to their advantage.
This is backed up by the Headteacher's confirmation of the academy's commitment: "We work on the principles that every child can be successful."
Beyond the Awards…
The impact of using Kloodle for skill development and reflections for young carers has been so positive that word spread around the staff room and Manchester Communication Academy has extended the use to the rest of the school.
If you would like a demo of Kloodle then please book it here:    Calendar