Background
Framwellgate School is a medium size 11-18 co-educational, non-selective secondary school in Durham. The school promotes academic excellence and adopts the values of honesty, integrity, respect and compassion allied with the ambition that they want their students to have a genuine passion for learning.
Recently the school decided to embrace the Personal Development Awards (PDA), a practice-based qualification, to help their students to broaden their outlook and complement their academic achievements at the school.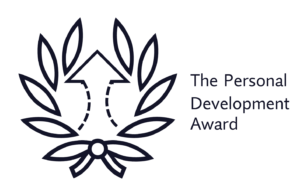 Kloodle Expresso
Framwellgate School had decided that they wanted to use the Kloodle digital platform to record the skills activity and reflections for the PDAs. In this situation, the school wanted to start quickly, so the teacher created a test account by going on to the Kloodle website and clicking on the "Create Account" button

. The system is very intuitive and the teacher was confident and very capable of setting up the skills' awards and inputting student details straight away without any support. We send a follow-up email checking everything is okay and whether the starter requires help, but it was pretty much redundant in this case. Quite often, some schools might request a demo on Kloodle before signing up, but it's not absolutely necessary (however, if you would like a live demo, then book here).
Hey presto! It's amazing that the school signed up and got going straight away and, as you'll see further down, the learners are making great posts!
So, What Are the Personal Development Awards?
This award has been developed to encourage students to go beyond their academic studies by recognising and developing key transferable skills and qualities that will really help their future progression in life.
It's About  Trying New Things
The PDA is designed for students to "try new things", then reflect on and record their experiences. These new activities develop new skills and the idea is that this can support decision-making about the future.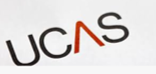 The awards can also prepare students for future job and university applications. According to UCAS: "Whether you're looking for a graduate position, or planning on going straight into work, employer surveys continue to emphasise the need to have good key skills, transferable skills, the ability to network, and above all, the right attitude. Identifying your skills can really help you focus on which jobs might be good for you."
They can also maintain good physical and mental health. According to the Happiness Index:

"It's also good for maintaining a healthy work-life balance is not only important for health and relationships, but it can also improve … productivity, and ultimately performance."
There is the added bonus that learners are also rewarded for doing something they enjoy and feel a sense of achievement; a positive respite from the pressures of exams.
What's under the Bonnet of the PDA?
Students can choose to participate in five different activity categories of the award as shown in the segments in the pie: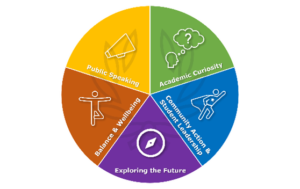 Bronze, Silver, Gold Awards
The framework of the qualification is based on similar principles to the Duke of Edinburgh's award with three progressive levels: Bronze, Silver and Gold.
The PDA features a modular approach with students expected to carry out a number of tasks to complete each category. There are five compulsory 'tasks' required to be completed in each category to achieve the Bronze Award. Two further activities, making seven in total, are required for the Silver. Then a further two activities are required to complete the Gold.
These 'tasks' include reading relevant research or books, attending lectures, listening to podcasts, physical activity, preparing meals, public speaking….it's a long list, which also includes 'work experience'.
Here is an example for the Community Action and Student Leadership category: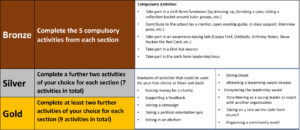 How is Kloodle Used?
Candidates are expected to take full ownership of completing the award and work independently.
The school decided that, in order to earn the award, each student's progress must be recorded in Kloodle. As we mentioned, in no time at all the students were up and running and posting great reflections.
There is a requirement for the students to plan and review their projects at key points, explaining how they have developed their skills. To do this, students are expected to record a portfolio of evidence to demonstrate what they have done and then to present it to their tutor in order to get sign off.
The school also encourages students to download the Kloodle app to their phones so that photos and posts about activities can be recorded quickly as they are completed.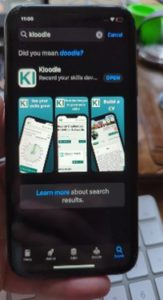 This is perfect for Kloodle.
The designated tutor can check the student's progress and work on Kloodle at their convenience remotely. Once all the sections have been completed and signed off, students will receive a certificate that can go into their Kloodle profile.
Preparing for Life Beyond School

Students receive feedback on their posts and activities from their tutors through Kloodle and advice is given on how the posts, if written well, can be incorporated into the personal statement, interview preparation or adapted for a CV.
Star Students' Posts and Reflections

As digital-natives, the students are comfortable making their posts, however, aide-memoires or props can be utilised to help with the structure and content of their logs. At Framwellgate School, they use a simple acronym, known as the STAR method: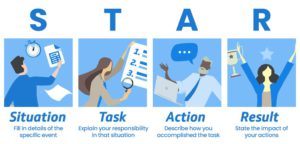 And here are some real-life excellent examples of reflections on work experience, community action and making presentations:

The Power of the Collective Skills Wheel
Each individual student has a skills wheel on their Kloodle profile, which illustrates the growth in skill development. An added feature is the skills wheel for a group of students. This helps the teacher with planning. Students can be assigned to a group, class, cohort, year, subject or any other classification and the skills wheel acts as a visual aid, which can illustrate at a glance the progress and deficiencies of that particular group.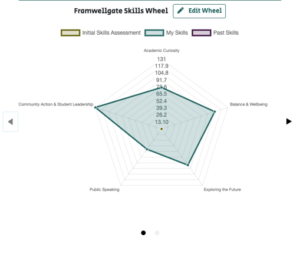 Through this, the teacher can set more specific or targeted tasks to enhance skills exposure in certain areas.
The PDA is Fun, Enriching and it Satisfies Ofsted
Ofsted's inspection framework now includes a new section for assessment called "Personal Development". It means that schools need to provide evidence of extra-curricular activities, character and personal development, and careers guidance.
For the highest outcome in personal development, school must present their pupils with a wide, rich range of experiences.
The PDA is a fantastic way of demonstrating this.
If you would like a demo of Kloodle please book it here:   Calendar