The School of Science and Technology in Texas Is Using The Digital Platform, Kloodle
Zekeriya Yuksel (Zack), the Senior Director of Audit at the School of Science and Technology (SST) in San Antonio and a candidate for a master's degree in Character Education at the University of Birmingham, is responsible for implementing Character.org 11 Principles, including employing the digital character education interventions across the organization since 2018. This means he has been getting up to speed in using Kloodle, the digital skills platform, as the tool for implementing his plans. He is carrying out this new role whilst doing research for his dissertation. He's going to be busy!
Zack says: "As we respond to the evolving needs of Generation Z and beyond, we understand the significance of dynamic character education. Leveraging the power of technology, we continuously strive for greater effectiveness in our approach. Our journey led us to Kloodle, a platform dedicated to empowering schools in character education. Through a successful pilot program at one of our schools, we have witnessed the Kloodle Team's effectiveness in turning our character education aspirations into reality. We firmly believe that this partnership will enhance our outcomes, allowing us to tailor solutions that cater to our students' ever-evolving character development needs."
An excellent summary and fantastic feedback!
In this case study, we will delve into the history and evolution of character education at SST, examining how Zack has crafted a framework within Kloodle that incorporates Activities, Challenges, and Class Targets to promote and nurture the character traits adopted by the school. Zack has introduced varying levels for each activity to foster greater student autonomy. His firm belief lies in the idea that student-centered interventions facilitate a more profound internalization of the core ethical values, ultimately leading to the development of their practical wisdom, also known as "phronesis."
Furthermore, Zack has devised a survey and reporting system to closely monitor students' progress, soliciting input from both parents and staff members to ensure comprehensive oversight and assessment.
 Background To The School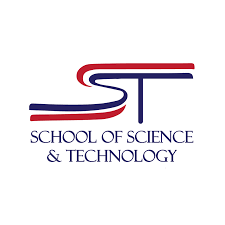 SST has more than 10,000 students and 19 campuses in three different cities: Corpus Christi, Houston, and San Antonio, which are public charter schools for Pre-K to 12th grade and accredited and audited by the Texas Education Agency. SST states that their mission is to drive "academic and socio-emotional development through a college preparatory, STEM-based learning model. SST's model is anchored on 21st-century skills, embraced by a character-building approach, and delivered in an enriching, safe, and student-centered learning environment."
SST prepares each student for higher education by providing a 'safe, caring, and collaborative atmosphere' featuring a high quality, student-centred educational program strongly emphasising Science, Technology, Engineering and Maths (STEM).
Character Education At SST
SST teaches character education because it believes it helps the students to grow into the 'the role models of tomorrow.' Therefore, character education is at the heart of everything they do at the SST schools. Each campus promotes its own specific character traits, which they instil into their curriculum, community activities and extracurricular programs.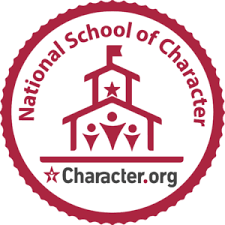 The SST Discovery District received Character.org's highest honor, the National District of Character, in 2022. It was the sole district in Texas to achieve this recognition for both 2022 and 2023 and one of just two districts in the entire United States to be honored in 2022.
With this commitment, the SST is aiming to fulfil statement of the Jubilee Centre for Character and Virtues, Birmingham, UK: "Each child has the right to character development".
Kloodle, The Digital Solution For Character Education
Zack plays a pivotal role in enhancing SST's Character Education Programs, spearheading their modernization through the integration of technology. He has familiarised himself with Kloodle, the digital skills platform, as the tool for implementing his plans. If you would like a demo of Kloodle please book it here: Calendar

Kloodle is being utilised by many character education schools in the UK and elsewhere in the world and is featured on the Jubilee Centre website as having been successfully piloted as a digital solution for the flagship character education trailblazer at Northampton Academy. The project and relationship is described on the Jubilee Centre's website here: https://www.jubileecentre.ac.uk/2983/character-education/framework/framework-in-action
The Trial Run
Before inducting all the SST schools onto the digital system, Zack wanted to test drive Kloodle, experiment with the features and iron out any potential issues early in the process. So, he decided to carry out a 'pre-trial' of how he would want it to work in practice using his son Orhan, who is in 8th grade. He is very receptive and keen to participate and as a result the pre-trial went very well. Well done, Orhan!
The first official expansive pilot program commenced at the beginning of the academic year at SST Corpus Christi College Prep High School and the intention is to roll out the character scheme on Kloodle across the suite of SST school campuses in the upcoming years if the executive team approves the full implementation. The outcomes should satisfy the executive team's expectations in terms of practicability and effectiveness. It's a big task, so it's important that everything works just right!
In appreciation of the support he has received, Zack states: "I would like to extend my heartfelt gratitude and acknowledgment to the individuals who made this project possible: Dr. Guray Taysever, Principal; Katie Sheehan, Assistant Principal; and Ashton Sigler, Family and Engagement Coordinator. Their unwavering dedication, encouragement, commitment, and hard work were instrumental in bringing this project to fruition. Special recognition goes to Mrs. Sigler for her exceptional dedication in setting up the challenges. I'd like to express my deep appreciation for our superintendent's advocacy of character education, which has had a significant impact. This trial is a testament to the dedication and teamwork of our entire group."
The Character Scheme: Categories Of Character Traits
The first undertaking was to choose and establish the categories of character traits that the pupils would need to demonstrate and feed into their individual Kloodle profiles as part of the program. Zek is using the same character traits from the research he is undertaking for his dissertation at Birmingham University. They are: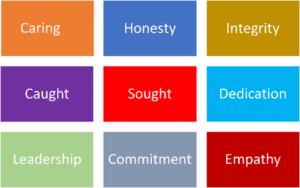 These are the character categories around which content will be structured for learners, who can then make reflections and provide evidence of character development on Kloodle.
Scaffolding Character Development With Content
Zack has created a raft of content which is composed to support demonstration of these character categories, so that students can appreciate that carrying out the tasks well can result in building their character. Content in the form of progressively difficult levels of tasks has been uploaded to Kloodle.
Zack has also designed a points system to mirror the effort expended and levels achieved. More on this later.
There are three components to the design of the content: Activities, Challenges and Class Targets.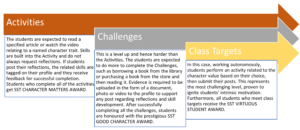 Tell Me About The Challenges
A total of 75 Challenges have been created on Kloodle, each featuring either an instructional video or a link to related reading material. There are five levels to each Challenge, running from Level 1 to Level 5, with each progressive level requesting more detailed performance than the previous level.
Here's an example: Level 1 – The Power of Empathy. The students are asked to watch the video and submit their reflections. Watch it here: https://www.youtube.com/watch?v=6HLPABYNcso
Below are some examples of the SST Challenges on Kloodle: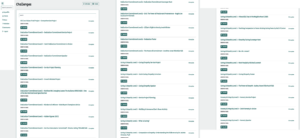 The levels of Challenges reflect the extensiveness of the students' character progress. Although the levels don't necessarily relate to year groups, there is inevitably some correlation since 8th grade students all start on Level 1. There is a strict framework as to how long the students should spend completing specified Challenges in order to ensure some students don't lag behind.
Below is an example of a specific Level 2 Challenge on Dedication/Commitment – Growth Mindset: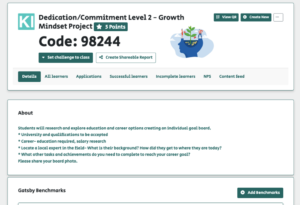 Points Make Prizes
The points system has been modelled to reward good performance after verification by a designated person in authority, like a teacher. Learners generally receive a minimum of 10 points for carrying out a basic task, say a reflection, tagging a skill etc. When a learner is set a Challenge or interaction by a teacher then their post is marked, and the student receives one of four grades:

There is the capability to pre-load points on Challenges. So, if the students successfully complete that Challenge, then they will automatically get the allocated points set by the teacher. There is a multiplier which applies depending on the Challenge; for example, Level 2 Challenges are worth more points than Level 1 Challenges. When teachers mark those pieces of work, the increased multiplier applies to the points added on the system, giving them a boost.
Here's an example of how the points system for Challenges looks like on a phone: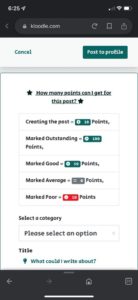 However, currently, SST Corpus Christi College Prep High School's trial does not use the established point system due to limitations imposed by Character.org's 11 Principles. Specifically, Character.org's Principle 7 necessitates the elimination of extrinsic motivators. Consequently, certifictaes are now issued to students based on theri level completions instead.
Reflections
 All this rich experience and character development can be captured by being recorded on Kloodle. Learners do this by uploading photos, videos and blogs to their Kloodle profile, tagging in the skills they are honing as part of the activity. Reflection is a very powerful component of the process as children think more deeply about identifying character traits and then how to develop them. Personal reflections are added to Kloodle, when students can consider how their character has evolved. Ultimately, they can keep their profiles for life!
 Kloodle App
Kloodle have developed an App which can be downloaded from the Apple Store. Zack has encouraged learners to use the App on their phones wherever possible. Students can provide evidence of their skill development to their Kloodle profile via the App by uploading photos or videos taken on their phone.  Zack has used the App as a teacher to carry out some tasks, such as marking and commenting on learners' reflections. However the vast majority of teachers prefer to use desktops or laptops to review students' work, so they tend to access Kloodle through Safari. That works equally well!
Reports
The school leadership team can elect to receive bespoke reports about the activity of the students. For example, some schools want to determine how many students have completed a task and met their targets. The tailored report can show how many students have completed tasks over the period and how many are still incomplete. This way management can see how receptive the students have been and who needs chasing up!
Certificate System 
Certificates are awarded to students based on their completion of activities, challenges, and Class Targets. These certificates recognize their dedication to character development, emphasizing intrinsic motivation over extrinsic rewards. This practice aligns with our goal of nurturing the character trait of 'Gratitude' in our students, and we've established three certificate levels within the Kloodle Platform to acknowledge their progress.
The three awards which have been created by SST character education leadership team are: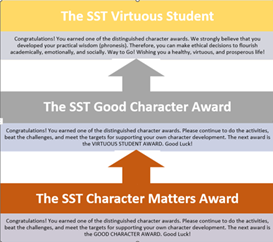 These awards are presented based on a points system and are set in a hierarchy, the equivalent of the gold, silver or bronze badge which will appear on the students' Kloodle profile.
Here is an example of a Virtuous Student Certificate:
Surveys
Zack has introduced a survey system to drill down to more useful information about character development. Saving mountains of paper this is much easier to administer remotely via Kloodle. Students receive surveys through Kloodle regarding student behaviour and record when completed.
Here is an example of a series of surveys below. One survey is an assessment of the students' honesty and integrity. It might involve self-evaluation or it might be a reflection about the attitudes of others. The students mark their attitude on a 5-point scale from strongly agree to strongly disagree. The feedback from the surveys can be repeated over time to monitor changing attitudes and the benefit of character training over the terms.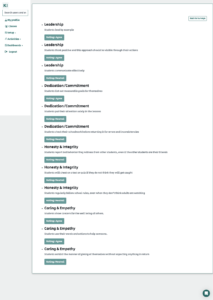 Pre-Survey and Post-Survey assessments are conducted to monitor student growth. To avoid self-bias, we include not only student self-assessment but also involve parents and staff members in evaluating the observable behaviors related to each character trait promoted by the campus.
Character Wheels
SST uses Kloodle to demonstrate how teachers and character leaders can assist the character development of their students during their time at school. On Kloodle, learners build their personal profile by recording their Activities and Challenges and tagging in the relevant character traits or skills. This way the students can identify these aptitudes and can grow their character wheel, demonstrating clearly how they have developed their character over time.
Zack introduced one character wheel for his learners in the first term, called 'Virtue Literacy'. The traits included here are: Caring and Empathy; Leadership; Dedication and Commitment, and; Honesty and Integrity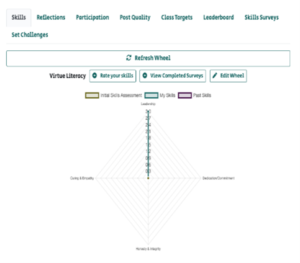 Watch that wheel grow!
Some schools on Kloodle create just one character (or skills) wheel for all their learners with a set number of character traits in the spokes. Around 5 skills is probably most appropriate for primary school children to keep it simple and engaging. However, for older and more receptive learners, some schools use a large number of character traits.
Zack is dealing with older children, that is from 8th Grade upwards, and the organization is very keen to promote and embed character education in everything that they do at the school. With this in mind, Zack has set up a number of different character wheels for the students.
Further wheels will be added to the skills dashboard on Kloodle as the term progresses. The additional character wheels will be reflective of the new character topics featured during the school year.
This way learners can self-evaluate their own character and track their character development.
One great advantage is that learners can keep their Kloodle profiles throughout their school-life, so they can monitor the impact the character work makes over the long term.
Summary
The School of Science and Technology in Texas is revolutionising character education using the digital platform, Kloodle. Led by Zekeriya Yuksel, SST has integrated on Kloodle a comprehensive framework engaging students in various character-building tasks of Activities, Challenges, and Class Targets to instil essential character traits. This innovative approach, aligned with Character.org principles, emphasises SST's commitment to character education and aligns with their mission to prepare students for higher education while emphasising 21st-century skills and character traits, setting a benchmark in character education.
Once the trial of full immersion of SST is finished, the intention is to convert all 19 SST schools in Texas to use Kloodle.
If you would like a demo of Kloodle please book it here:   Calendar